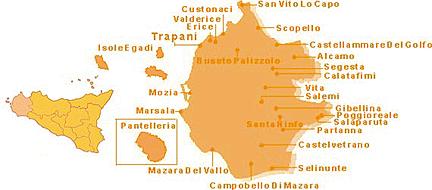 TRAPANI, SICILY
Trapani is a coastal town on the northwest coast of Sicily. The city developed as a Sican village, later called by the Greeks Drepanon (sickle) possibly because of the shape of the promontory the old city was placed on. In the 8th Cent. BC it became a Phoenician port of call and, in the first Punic War, a Carthaginian strategic base. Later, under the Romans, it was a minor trade and maritime center. In 440 AD, it was invaded by the Vandals, in 477 it fell to the Byzantines, and in about 830 it was taken by the Muslims, who made it one of the richest and most prosperous cities in Sicily, developing its maritime activities and its gold and coral handicraft. The Normans conquered it in 1077. In 1282 it took part in the uprising against the Angevins (the War of the Sicilian Vespers).
Between the 13th and 15th centuries, its size was extended. It started to decline in the late 16th century. In the following century, Charles V fortified the town walls and trade again prospered. Many new salt-pans were created, some of which are still active today. However, this did not stop the general decline of the economy. In 1860, it was actively involved in uprisings against the Bourbons and, even before the arrival of Garibaldi and his army, forced them to fee the city.
Of interest is the Museo Pepoli and the Palazzo d'Ali (20th cent.) which houses the town hall. Also the Palazzo Adragna-Riccio, Palazzo Cavarretta (18th cent.), Torre di Ligny (1671), Museo della Preistoria e Protostoria, Torre della Colombaia, Lazzaretto, and Palazzo della Giudecca (16th cent.). There is also the Museo del Sale and nature reserve. Very interesting is the Procession of the Mysteries that takes place on the Good Friday night.
Situated at the hearth of a large valley thriving with vineyards, Its name derives from the Arab "Manzil Alkamah". Alcamo Castle was built in 1340 by Raimondo Peralta. But it developed some years later with Guarnerio Ventimiglia, who enlarged both the Castle and the Matrice. Alcamo became a wealthy and important town because of its location and wheat cultivation. Between the 15th and 17th centuries, the town was divided into quarters by buildings constructed by numerous religious orders, extending the town outside the medieval walls. After the unification of Italy, the convents were transformed for civil purposes and the city walls were again restructured, leaving the ancient town layout intact. Of interest is also the Mother Church, the Badia Nuova and the Badia Vecchia, Chiesa della Annunziata, the Conti di Modica Castle, the Torre De Ballis.
Back to top
The little town of Byzantine origin, was an old hamlet belonging to the territory of Erice. Its name derives from the Arab "Busit" and from the Palizzolo family to whom it was assigned by emperor Charles V in 1563.
Back to top
Calatafimi, a town of ancient Arab origin and the setting of the famous historic battle between the Boubons and Garibaldi's soldiers in 1860, is situated in the ancient "Vallo di Mazara", its territory is characterized by a series of low hills, interrupted by isolated rises including the rocky ridge of Segesta, and decorated by a complex network of waterways, in fact many watermills "Mulini ad acqua", were built along its banks. Of interest is the "Vallone della Fusa", the Church of the Madonna del Giubino, the Norman Chiesa del Carmine.
Back to top
Campobello di Mazara is situated in the lower valley of the River Modione, near its mouth. The town was founded in 1623 by Giuseppe di Napoli, who in 1630 was given a dukedom. Of interest is the Baronial Palace and the Mother Church. Near the town are the Cave di Cusa, ancient quarries from which the Selinuntines extracted stone for the construction of the temples.
Back to top
In pre-Hellenic days, it was the chief port of the Elymian cities of Erice and Segesta. During the Middle Ages it developed around the castle near the sea. Originally a drawbridge must have linked the castle to the town. After the invention of the tunny-fishery and the wheat-loader, the town began to play an important economic and strategic role. The greatest phase of development was after 1560 when Pietro de Luna obtained the "licentia populandi". Of special interest is the Castle, the Mother Church (16th century).
Back to top
Castelvetrano is situated in a valley between the Delia and Belice rivers. The town's old centre is marked by many palaces and churches of different styles, ranging from Renaissance influences to early Catalan baroque. Bulidings of great artistic relevance include: the Mother Church, with decorations by Gaspare Serpotta, the church of St. Domenico, the Church of Purgatorio, housing the Perosi auditorium, the 13th centuty Palazzo Pignatelli and the Arab-Byzantine church of the Trinità di Delia (13th century).
Back to top
Custonaci rose at the end of 18th century. It is one of the most famous Italian center of marble industry, which overlooks the valley from its beautiful Santuario della Madonna. Of interest is also the nearby hamlet of Borgo di Scurati, a group of little houses constructed in the shelter of an enormous grotto inhabited since the upper Paleolithic age. Also interesting is the Grotta Miceli, the Grotta Scurati, and the Presepe Vivente (the Animated Crib).
Back to top
Favignana: The Greek called the island Aegusa, but it was named Famignana after the wind Favonio during the Middle Ages. It looks like a big butterfly. Its waters keep the secrets of ancient battles as the terrible battle of the Egadi in 241 B.C. fought at Cala Rossa by the Romans and the Carthaginians. The island's prosperity has been linked to the Florio family from the second half of the 19th century till the first decades of this century. Palazzo Florio, built around 1876, is certainly a symbol of the island. Of interest is the famous Tonnara Florio, an imposing tuna fish establishment and a superb example of industrial archaeology. Very impressive is the Mattanza, an age-old rite that takes place around three times weekly in May and June, when, under the head fisherman, or rais, the tuna-fishes are surrounded, netted and then impaled and beaten to death. The island is famous for its marvellous coasts and for the incredible colours of its sea; there is an infinite number of "cale" (small bays), with suggestive reefs and white sand beaches that will offer magic moments to every sea lover.
Levanzo: off the northern coast of Favignana lies the islad of Levanzo, famous for its numerous archaeological objects found in the deep sea. This islands has been inhabited since very ancient times, as is shown by the neolithical paintings of 5000 years ago found in the Genovese Grotto,
Marettimo: Called "Hiera" by the Greek, meaning "Sacred Island", is the wildest island of the Egadi, with its marvelous caves and mountainous paths. Scalo Vecchio is the real fishermen's harbor in Marettimo. From here you can see Punta Troia with its castle built by the Spanish in 17th century. Outside the town, following a mule-track climbing up the mountain you can reach "Case Romane", some Roman ruins and a small temple dating back to the first century of the Christian era, testifying Marettimo was a seat of a Roman fortified place.
Back to top
On the top of Mount St. Giuliano, lies the town of Erice, overlooking Trapani, the valley and the sea, from a superb scenic location. It was inhabited by the Elymians, who erected a temple dedicated to the worship of the Godness of fecundity and love. On the ruins of the temple stands the "Castello di Venere" fortified during the Norman rule. Erice was contended by the Syracusans and by the Carthaginians till the Roman conquest in 248 B.C.. During the Arab invasion it was called Gebel Hamed. Of interest is the Town Walls of Elymian origin (8th century B.C.) at whose corner stand the Norman castle, the Spanish quarter and the Mother Church (1314), the Cordici museum.
Back to top
Its name derives from the Arab "Gebel". In 1968 the town was destroyed by the earthquake occurred in the Belice Valley. The new Gibellina has been built such as a kind of permanent museum of sculptures by Arnaldo Pomodoro, Consagra, Isgrò and many others, scattered through the streets and the buildings. Among the artists, Alberto Burri, who created the "Cretto", an artificial scenery to memorize the past and the catastrophic event.
Back to top
Founded as a Carthaginian colony in 397 BC following the destruction of the nearby settlement on the island of Mozia by the Syracusans, the ancient Phoenician village of "Lilibeo", was ideally situated as a naval base. The Romans conquered it in 241 BC following the great sea battle that also led to the conquest of Drepanum. Cicero, who visited in 75 BC, described it as a "splendid city." The Arabs changed its name in Mars-Ali. Of interest is the Palazzo Senatorio called "La Loggia", the Norman Cathedral, the Museo degli Arazzi, with magnificent 16th century Flemish tapestries.
Back to top
Today's one of the most important ports of call for Mediterranean fishing, Mazara del Vallo was an ancient Phoenician port. The old city is surrounded b a square perimeter and has preserved the residential characteristics of the Muslim settlements in Sicily. Intensively developed under the Arabs (827), in 1093 became the Episcopal See and in 1907 it housed the first Norman Parliament in Sicily. Of interest is the Mother Church, the Seminary of the Clerics, the Palazzo Vescovile and the Churches of St. Ignazio, S. Caterina and St. Egidio del Carmine.
Back to top
The old Motya, in the centre of the lagoon of the Stagnone di Marsala, was one of the most important Mediterranean colonies of the Phoenician-Punic civilization founded around the 8th-7th century B.C. In the 6th century the expansion of the Carthaginian Empire and the rivalry with the Greek colonies led Mozia to set up a defense system which gradually became more and more solid. However, this was not enough to resist to the assault by Dionysius of Syracuse, who in 397 BC besieged the island using a new weapon, the catapult. In 1800 an English businessman in the wine trade, Joseph Withacker, very interested in archaeology, began to dig the area. The most important archaeological finds, such as the Statue of "Giovinetto di Mozia", an exceptional Greek masterpiece of the 5th century B.C., can be seen in the Museum "Withacker Foundation".
Back to top
Inhabited since the Neolithic era, the ancient "Kossyra", a volcanic island set between Africa and Sicily, can be considered a true nature paradise, the precious black pearl of the Mediterranean Sea. Rich in splendid coasts, beaches, singular rock formations, grottoes the island is an important halting place for migratory birds. Pantelleria still shows residual signs of its ancient volcanic activity both around the now extinct crater of Montagna Grande, where there are the outlets called "Cuddie" and inside the crater itself, where there is the "Specchio di Venere" a fascinating pool fed by thermal springs.
Back to top
Situated between the Modione and Belice valleys, was probably an old Sicanian settlements. The oldest part of the town centre, surrounded by walls, was built in the 14th century, around the castle of the Mother Church. In 1139 it became a fief of the Grifeos, who were raised to the title of Princes in 1627 and their named altered to Graffeo.
Back to top
In Poggioreale you can admire the clay shards of the 6th century B.C., found in Monte Castellazzo as well as the contemporary square designed by the architect Paolo Portoghesi.
Back to top
The agriculture center of Salaparuta is of Arab origin. Its old name Menzi Salah, means the Lady's hamlet. In the 15th century it became a feud owned by the Paruta family who founded the urban centre at the foot of the Medieval castle. Of interest are the remains of the medieval castle restored in the 18th century.
Back to top
The ancient Halicyae, of Sican or Elymian origin, was an ally of Segesta in the war against Syracuse and, under the Romans, one of the five free and immune cities of Sicily. In the Middle Ages, the Arabs extended its defensive and urban structures and named the town. Under the Aragonese, it was disputed by the most powerful families of the Sicilian nobility but it soon became a city of the royal domain. In the Castle of Salemi, Garibaldi, assumed the title of "Dictator of Sicily" in the name of Victor Emmanuel, "King of Italy", thus underlying the strictly monarchic and unifying intentions of this military undertaking. The town of Salemi was severely damaged by the earthquake in 1968. Some of the buildings that could be saved have been restored, while a new town has been constructed further down the valley, to which part of the population have moved. Of interest is the 13th century Castle, built by Frederick II of Swabia. It is trapezoidal in plan and has corner towers. Also of interest are the Museo Civico in the old Collegio dei Gesuiti (17th century) and the Palazzo del Comune.
Back to top
Situated between Segesta and Selinunte, the town of Santa Ninfa is immersed in beautiful woods. Of interest is the Museum of Ethnology and anthropology and "The Castle of Rampinzeri" recently restored. Also interesting is the 1350 m.-long karst cave of Santa Ninfa, unique in Europe for its bizarre concretions and gypsum crystals.
Back to top
A fishing village developed around an old Saracen fortress, later turned into a shrine dedicated to San Vito. The town is located in one of the most beautiful coast of the island, with white sandy beaches. Only few km. far from San Vito Lo Capo is probably one of the most seductive and unspoilt places on the island: the "Zingaro", a natural reserve of primitive beauty.
Back to top
Scopello is a very beautiful small seafaring village risen round to a 17th century rural farm. The wonderful steeps needles of Scopello rise bristly and are covered by vegetation. Of interest is the old "tonnara" with its magnificent view on the cliffs.
Back to top
Founded by the Elymi, the ancient rival of Selinunte, at just over 400 meters above sea level on mountain Barbaro, shows two beautiful works: the Temple and the Theatre. Perfectly preserved, the 5th century Siculian-doric temple stands imposingly on a hillock in the middle of a picturesque valley. On the highest peak of mountain there is the Greek theatre dating 2nd century B.C. which could contain 4000 spectators. Often fought over by Greeks and Carthaginians, highly vulnerable for its position, Segesta allied with Carthage in the 6th century. Then, after the battle of Himera in the year 480 BC with Athens. When the Athenian mission against Syracuse failed miserably, it turned for help to the Carthaginians, who destroyed Selinunte and absorbed it entirely. It was besieged by Dionysius of Syracuse and then, once the Carthaginians have been defeated, seized by Timoleon and later by Agathocles. It joined Pyrrhus in the tentative to free the Greeks in Sicily, but when he withdrew, it fell again under Carthaginian domination. It prospered under the Romans. It disappeared in the Middle Ages after being destroyed and ransacked by the Vandals.
Back to top
Selinunte, from the Greek "Sèlinon, was founded by Doric farmers coming from Megara Iblea in 700 BC.. It is undoubtedly one of the most important archaeological area of the Mediterranean and the only Greek city of which the inhabited area is preserved to a certain extent, and the majesty of the ruins is evidence of the greatness of the colony. The temples are indicated with letters because it was not possible to identify the divinity they were dedicated to, and the archaeological area is divided in three sections: the Eastern Temples, the Acropolis, and the Extra Urban Sanctuary. The Eastern Temples, near one another, are identified with the letters E F and G. The last one, started in the year 530 BC and never finished, is among the most colossal construction of ancient times with a surface of 7000 square meters. The E temple is considered for his proportions and his particularity the most perfect example of the Doric style in Sicily. Recently archaeological reports attribute to the temple F to have been dedicated to the goddess Hera or to Aphrodite. In the Acropolis, placed high up from the sea, there are the older temples A C and D, protected by the fortifications and by the grand boundary walls., the ancient city and two necropolises. We recommend a visit to the archaeological museum of Palermo, where are kept many and priceless materials that decorated the temples of Selinunte, the famous "Metope".
Back to top
Situated on a hill and nearly jutting out to the sea, the town is surrounded by a pine forest. On the coast the old tower of a "tonnara" testifies business activities linked to the tuna fishing and processing industries. Of interest is also the Paleolithic cave of "Scurati" on the slopes of Mount Cofano.
Back to top
The village of Vita originated in 1604 from a medieval hamlet in the feudal territory of Calatafimi. From here one can set off on a journey through the nature trails of the Bosco della Baronia.
Back to top
Sicily Provinces